(For all ingredients, please use organic versions if available)
Potato Buckwheat Rolls
1 package flour wraps
1 kilogram potatoes
3–4 bags buckwheat
Garlic
Bread crumbs
Paprika
Pepper
Salt
Dill Sauce
4 tablespoons oil
2 tablespoons flour
Half bunch fresh dill (or a large quantity of dried dill)
1 cup soy milk
Salt
Raspberry Mousse
(Serves 4)
300 grams raspberries and some for decoration
140 grams sugar
220 grams soy cottage cheese
400 milliliters soy yogurt
Juice and rind of 1 orange
140 grams roasted, crunchy oatmeal
Fresh mint for garnish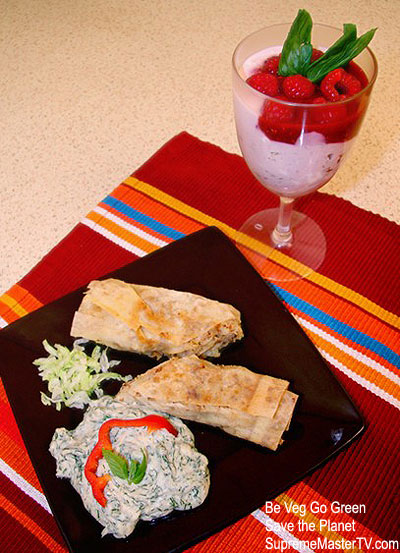 Dill Sauce:
1. Chopped the dill into small pieces.
2. Warm up the oil.
3. Put in the flour, add in the Vegeta, add in the dill.
4. Let it boil for a while.
5. Pouring in and mix the soya milk continuously until the sauce become thick.
6. Add in a little bit of salt and pepper, then mix.
7. Put the sauce aside, and let it cooling down.
Potato Buckwheat Rolls:
1. Cook the potatoes for about 20 minutes, and then mash them.
2. Mix the mashed potatoes with oil to make a thick stuffing.
3. Add the buckwheat.
4. Mix thoroughly.
5. Add in the garlic, salt, and pepper. Mix together.
6. Start heating up the oil. Turn on the stove at 5-6 heat level.
7. Prepare the wrap.
8. Put one big spoon of the mashed potatoes on the wrap, then spread it out.
9. Roll the wrap then cut it into 2 pieces.
10. Roll the stuffed wrap in oil, quick enough only to help the wrap stick together, and then coat them with flour and bread crumbs mixture.
11. When the oil in the pan is ready, fry the stuffed wrap until they become golden on both side.
12. Do repeatedly for all the mashed potatoes.
13. Put the fried wrap on a plate, and put the sauce on the side.
14. Ready to serve.
Raspberry Mousse:
1. Blend the raspberries together with sugar, but leave 10 raspberries for decoration. This will be the raspberry sauce.
2. Mix the vegan cottage cheese with the vegan yogurt. Put in all the sugar.
3. Squeeze the lemon juice and pour it the yogurt mix.
4. Grate the orange zest, and pour it on the dessert. The quantity of the grated zest depends on the preference.
5. Put 2 spoonfuls or more of the dessert in a glass.
6. Sprinkle on a layer of oat flakes.
7. Pour in the raspberry sauce.
8. Put several raspberries on top of it.
9. Garnish it with fresh mint leaves.
10. Let it sit for a while to let the oat flakes soften with the mouse.
11. Ready to serve.