(For all ingredients, please use organic versions if available)
Serves 2
1500 milliliters water (for broth)
25 grams seaweed
25 grams dried shiitake mushrooms
2½ tablespoons beet sugar
100 milliliters soy sauce
900 milliliters vegetable broth
2 bundles buckwheat
noodles (dried)
2 green onions or leeks
Horse radish to taste
Dried nori seaweed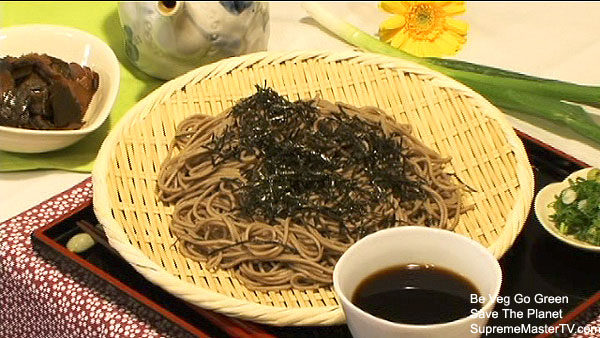 Preparing dipping sauce(Soyabu or Noodle broth)
1. Pour 1,500ml water into the pot
2. Add slices of dried mushrooms and kelp. (Prepare the kelp in squares after making broth for reusing at the end. Cut the kelp into 1cm square.)
3. Put 2 into the pot and let the pot sit for 2-3 hours
4. Put the heat on high and simmer. Just before it boils turn off the heat
5. Put 900ml of broth 4. into a small pot
6. Add 2 and 1/2TBS of beet sugar and 100ml soy sauce
7. Heat the pot (high heat ok) and let the broth sit for 2-3 hours.
8. Once the pot begins to boil it's done. Turn off the heat.
Garnishing
9. Cut organic green onions into thin slices
Prepare noodles
10. Scatter the "country buckwheat" noodles evenly in the pot. (to prevent from sticking together)
11. Boil them in water for 6 minutes and lower the heat.
12. Rinse the noodles well in cold water.
13. Drain water from noodles, rub carefully with your hands in cold water.
Serving
14. Pour the dipping sauce into a small bowl.
15. Add the garnish to the bowl.
16. Place the noodles on latticed bamboo tray or bamboo platter
16. Sprinkle with finely cut dried seaweed(nori).
17. Add a bit of horse radish to your liking.
Enjoy!
You eat by mixing the noodles with horse radish and the garnished in the bowl. If some sauce is left, add the broth and drink it as a soup.
*Reusing the mushroom and kelp from 2.
1. Add to them 4 TBS of beet sugar and 6 TBS of soy sauce
2. Cook in a pressurized pot until there is no liquid left.
3. At the end, you get this boiled food in soy sauce.