Happy Sticky Rice
2 cups sticky rice
2 small mushrooms, fresh or dried
½ can vegan mock chicken or dry textured soy proteins
2 teaspoons vegetable bouillon powder
½ teaspoons black pepper
2 tablespoons soy sauce or Maggi Seasoning Sauce
Olive oil
1-2 drops fruit syrup (optional)
Vegan butter
3 sweet paprika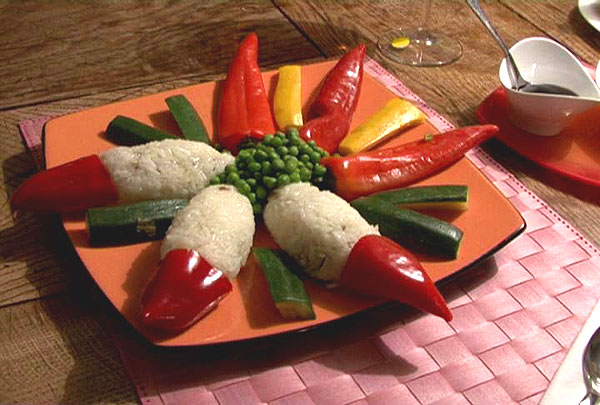 Corn Coconut Pudding
Fresh corn (or packaged)
Pinch of salt
Fruity syrup or fruit sugar
3-4 spoons cornstarch tapioca powder
Coconut milk
Tips of 3 sweet paprika
Water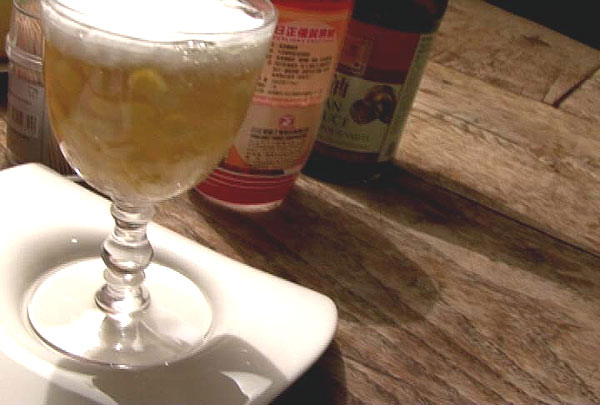 Side Dish: BOILED VEGETABLES
Boiled vegetables
½ yellow zucchini
Green zucchini
3 sweet paprika
Peas
Pinch of salt
(Optional: other vegetables)
Condiments
Vegan stir fry sauce or soy paste
Coconut milk
Fruit syrup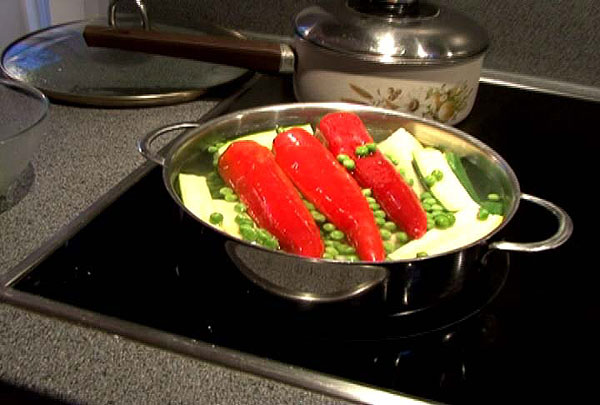 HAPPY STICKY RICE
1. Wash and rinse 2 cups of sticky rice several times to remove any dirt.
2. Fill water to about half index finger above the rice.
3. Cook in automatic rice cooker or ordinary cooker.
(Tip: Rice cooker is available in some Chinese shops. If there is still water after the water is boiled, pour away the excess water. Mix and stir the remaining rice with a wooden spatula or wooden chopstick. Continue to cook in the cooker.)
4. 5 minutes after the rice is cooked, stir the rice a bit so that it is moist and cooked evenly (top is not too dry and bottom is not too wet.)
5. Chop mushroom and vegan mock chicken or dry textured soy protein till fine.
6. Heat up some olive oil in a pan.
7. Fry mushroom and vegan mock chicken or dry textured soy protein for couple of minutes till golden or cooked.
8. Mix vegetable bouillon powder, black pepper, soy sauce or Maggi Seasoning Sauce and fruit syrup in a bowl. Add to the frying pan, mix well. Remove from heat and set aside.
9. Spread some vegan butter on a cling wrap.
10. Spread 2 tablespoons of sticky rice on to the cling wrap.
11. Add 1 tablespoon of mushroom mix onto the rice.
12. Wrap up and press it to become a long roll. Press it neatly and tight.
13. Cut the tip of red sweet paprikas; remove the inside from the cut hole. Be careful not to cut or break the outside.
14. Slowly open one end of the cling wrap from the sticky rice and stuff one end of the sticky rice into the hole of the red sweet paprikas. Remove the rest of the cling wrap. Re-use the cling wrap and repeat this process (Step 9 – 14) for another 2 more (or more if you like). Serve with the boiled vegetables.
CORN COCONUT PUDDING
1. Put half pot of water in a pot to boil. Add a pinch of salt to it.
2. Add corn to the water and cook for 5 minutes. It is not necessary to wait for the water to boil before you add the corn.
3. After the water is boiled again, reduce heat and let it simmer for another 5 – 10 minutes. If using fresh corn, simmer for 10 minutes.
4. Mix cornstarch with a little cold water until it is completely dissolved.
5. Add the cornstarch mixture into the pot when the corn is cooked.
(Tip : Do not mix cornstarch directly to the pot, or the soup will become very lumpy).
6. Stir in quick movement so that the cornstarch mixture is completely dissolved into the boiling water smoothly. The mixture will start to thicken. When it is cooked, the mixture should appear a bit transparent and thick. If it is too thick, you may add more water. Or if the thickness is not as desired, you may add more cornstarch mixture.
(Tip : Always maintain low heat at this stage to prevent getting the mixture burnt.)
7. Continue stirring in quick movement while adding in some fruit syrup till your desired sweetness.
8. Serve in a cup with a few tablespoons of coconut milk.
SIDE DISH: BOILED VEGETABLES
1. Boil pot of water in a pot. Add a pinch of salt to it.
(Tip: If you are using electric cooker, try to use same cooker if you are cooking several dishes. This will save some electricity since the cooker is already hot.)
2. Add the zucchinis, peas and paprikas in the pot when water is boiled. Turn down the heat and cover the pot for 1 – 2 minutes. Do not cook vegetables for too long so as to retain the vitamins and crispiness.
3. Drain the vegetables.
(Tip: You may use the water as soup based later instead of pouring it away).
4. Arrange the vegetables on the Happy Sticky plate. Serve with some vegan oyster sauce.