ENTRÉE: Coco Delight
300 grams gluten powder/flour
Flesh of 1 coconut
Pinch of salt
½ - 1 cup soy milk
Organic olive oil
Sauce:
½ small apple, finely chopped (optional: apple juice, or pears & grapes)
4 big strawberries, finely chopped
Juice of 1 orange
Pinch of salt
A squeeze of fruity syrup
Dash of organic strawberry jam
10 counts Maggi Seasoning sauce or soy sauce
Finely ground black pepper
Vegetable bouillon, optional
2 mushrooms, optional
Few dashes of coriander seed powder
1 Tbsp vegan oyster stir fry sauce
Water
Optional: ketchup, mustard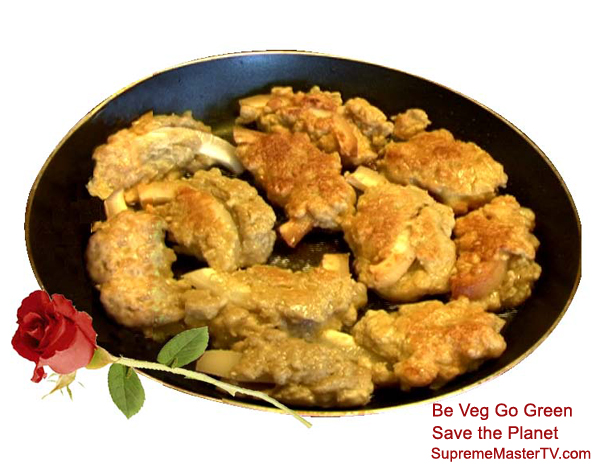 SALAD:
Exotic Avocado Salad
2 medium avocados
Ground Black pepper
Salt
Juice of 1 lemon
A squeeze of fruity sugar or fruity syrup
1 Tbsp organic olive oil
Coriander seed powder (optional)
Red bell pepper, cubed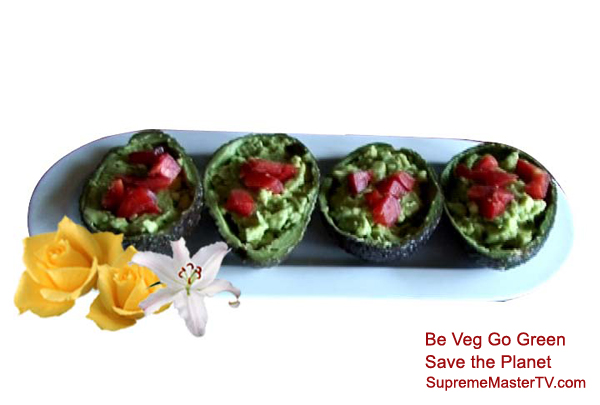 SIDE DISH:BOILED VEGETABLES
Boiled vegetables
Zucchini, quartered
Cherry tomatoes
Filtered water
ENTRÉE: COCO DELIGHT
1.De-hull the coconut if desire but not necessary.
(Tip : You may de-hull after step 2 if preferred or easier.)
2.Slice coconut into long stick (thinner than finger size).
3.Mix gluten powder flour, ½ cup of soy milk and a pinch salt in a bowl to form a dough.
(Tip : Wear a mask or avoid breathing in the flour if you are allergy or sensitive to flour.)
4.Add in ½ cup of soy milk or more to dough so that dough is not too hard or when dough is not sticking together.
5.Pinch some dough (enough to wrap a thin layer around the coconut stick) and roll into a ball.
6.Wrap the small dough around the coconut stick exposing one end of the coconut.
7.Heat up some oil (enough to cover half of the coco delight) in a pan on medium heat.
8.Deep fry the coco delights until both sides are golden brown and crispy. Keep turning the coco delights to ensure they are fried evenly. You may use a spatula to press on the coco delights so that they are slightly flattened.
9.Transfer the fried coco delights into another pot ready to be cooked further with sauce.
(Tip : Coco Delight can be served at this stage if desired. It goes well with yellow mustard or tomatoes/ketchup sauce with a dash of Maggi Seasoning sauce or soy sauce. Alternatively, you may like to cook the sauce separately and add it onto the coco delight.)
10.To prepare the sauce, finely chopped ½ an apple and 4 big strawberries into very small pieces. Set aside. You may use apple juice, pears or grapes if preferred.
11.Juice of 1 orange into a bowl. Set aside.
12.Heat up some oil in a frying pan (optional, oil may not be necessary).
13.Add the chopped fruits into the frying pan. Cook well.
(Tip : If you are not using oil, you may fry the fruits in water or orange juice with a squeeze of fruit syrup.)
14.Add in the orange juice, a pinch of salt, a squeeze of fruity syrup and a dash of organic strawberry jam. Stir well.
15.Add about 10 drops of Maggi Seasoning sauce or soy sauce.
16.Add ground black pepper.
17.Add organic vegetable bouillon if desire.
18.Finely chop a couple of mushrooms and add to the sauce (optional but not necessary).
19.Add several dashes of coriander powder. Stir well.
20.Pour the cooked sauce into the pot containing the coco delight. Rinse the pan with some water so that the remaining sauce in the frying pan is added to the coco delight pot.
21.Ensure that the coco delights are all covered by the sauce.
22.Simmer the coco delight pot under low heat.
23.Add a tablespoon of vegan oyster sauce. Mix well so that the sauce can penetrate well into the coco delights.
24.Cover the pot and let it simmer for 10 minutes. Cover the top of coco delight with the sauce once a while during the simmering. Serve with boiled vegetables.
SALAD: EXOTIC AVOCADO SALAD
1.Wash the avocado with salt water.
2.Divide avocados into 2 halves. Remove the nut in the center. Do not remove the skin of avocado.
(Tip : You may plant the nut in a cup, until it germinate and sprout. Transfer it to your garden soil for continual growth.)
3.Use a spoon to gently remove the flesh of avocados, leaving a thin layer of flesh with the skin. Be careful not to break the skin. You should have 4 avocado 'cups' when done.
4.Finely chop / mash the avocado flesh (scooped from the avocado) into small pieces.
5.Sprinkle some ground black pepper and salt on the chopped avocados.
6.Squeeze in 1 lemon juice (exclude the pulp) and some fruit syrup or sugar.
7.Add in the olive oil and mix well.
8.Sprinkle some coriander seed powder if desired for a more zesty taste.
9.Divide the mixture equally into the 4 avocado 'cups' prepared earlier.
10.Garnish the each cup with some cubes red bell pepper.
SIDE DISH: BOILED VEGETABLES
1.Cut the zucchini into quarters.
2.Boil the zucchini and cherry tomatoes in a pot of boiling water.
3.When the water comes to boil again, cook for another ½ - 1 min. Remove the zucchini and cherry tomatoes from the water. Serve together with the coco delight on the same plate as side dish.
(Tip : It is better to have the vegetables half raw and half cooked, not totally cooked.)