(For all ingredients, please use organic versions if available)
Mushroom Stroganoff (Gluten-free)
Pinch of white pepper
Pinch of cayenne
5 cranks fresh ground black pepper
½ teaspoon dry thyme leaf or 2 teaspoons fresh thyme leaf
½ teaspoon dry rubbed sage leaf or 2 teaspoons of fresh sage leaf
½ teaspoon dry French tarragon or 2 teaspoons of fresh tarragon leaf
2 cloves minced garlic
½ cup diced bell pepper
¾ cup diced yellow or white onion
2 caps diced portabella, de-stemmed and de-gilled
2 teaspoons sea salt
2 tablespoons sesame oil
3 tablespoons olive oil
2 tablespoons tamari (wheat-free)
1½ cup soup stock or water
2 cups tofu sour cream
Semolina pappardelle pasta or long grain brown rice
Tofu Sour Cream
2 packages Mori-Nu soft silken tofu
3 tablespoons bottled lemon juice
3 tablespoons white distilled vinegar
¼ cup canola oil
1 tablespoon sugar
1½ teaspoon sea salt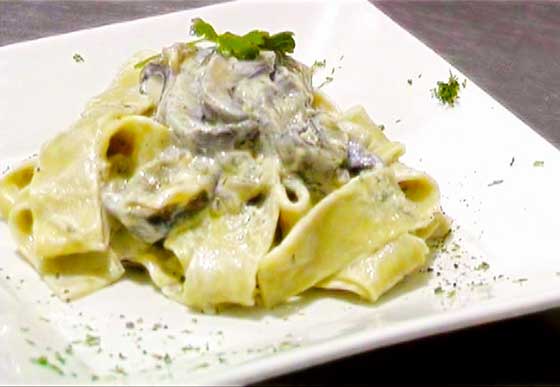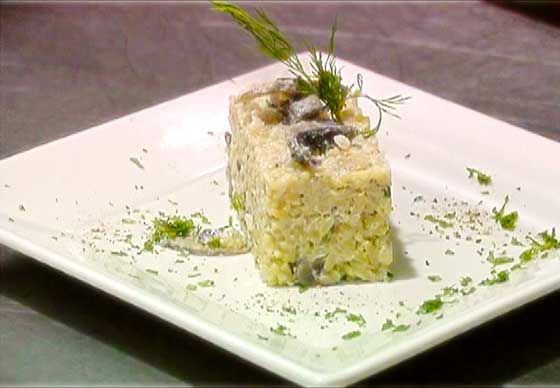 Mushroom Stroganoff (Gluten-free)
Sauté the onion first, and then the bell peppers.
Add in a pinch of white pepper, a pinch of cayenne, a pinch of dried thyme.
Add in the fresh ground black pepper and the salt.
Add in the sesame oil and olive oil.
Throw in the mushrooms.
Sauté everything together.
Turn the heat down a little bit so that the olive oil doesn't burn.
Meanwhile, put on top of a plate some nice fresh spring of Italian parsley and fresh dill. Also mince some up for the edge of the plate.
If the onion are already 75% translucent, then it is time to add in the garlic.
Deglaze it with water and wheat free tamari.
Let it cook for about 15 minutes until the volume reduce to half.
This mushroom stroganoff sauce will be blended with the tofu sour cream.
Tofu Sour Cream
Put the Mori-Nu tofu in the blender.
Add in the salt, the distilled vinegar, the olive oil, the lemon juice.
Turn on the blender, and give it a little stir.
Make the cream has a smooth texture with no chunks in it.
Add in the fresh herbs: the winter savory, and the sage.
Turn on the blender again and give it a little stir.
Pour in the sauce into a bowl and put it in a refrigerator.
Papparadelle Pasta:


Boil some water, and when it reaches the hottest point, add in the pasta.
Boil the pasta for about 3-4 minutes or until it is floating.
Take out the pasta and drain the water.
Take one of the pasta and cut it into smaller pieces.
Let the pasta cooling down and put them in the middle of a plate.
Put a spoonful of the tofu sour cream on it and also a spoonful of the mushroom stroganoff sauce.
Try to get those mushroom on top to make they look more attractive.
Add a little bit of dill and a little bit of parsley leaf as garnish.
Throw in some fresh ground black pepper around the outside to give it another flavor profile.
The Papparadelle Pasta with the mushroom stroganoff and tofu sour cream is ready to be served.
Long Grain Brown Rice (Gluten Free):
Put some long grain brown rice into a pan.
Take a spoonful of the tofu sour cream and add it to the rice.
Take a spoonful of mushroom stroganoff sauce.
Put it in a sushi mould form with some of the mushroom on top.
This is a risotto style gluten free portabella mushroom stroganoff.
Garnish it with some Italian flat leaf parsley around the edge.
Throw a little dill on top just for excitement and pleasure.
The gluten-free mushroom brown rice stroganoff is ready to be served.