3 bundles of udon noodles, kishi-men, or Formosan (Taiwanese) style fresh noodles
5–7 leaves Napa cabbage
1 green pepper
1 konjac
2 eggplants
5 shiitake mushrooms
1 cucumber
2 tablespoons sugar
2 tablespoons potato starch
1 tablespoon vegetable oil
3 tablespoons red miso
10 tablespoons sweet bean sauce
1 tablespoon sesame oil
800 milliliters water
(For all ingredients, please use organic versions if available)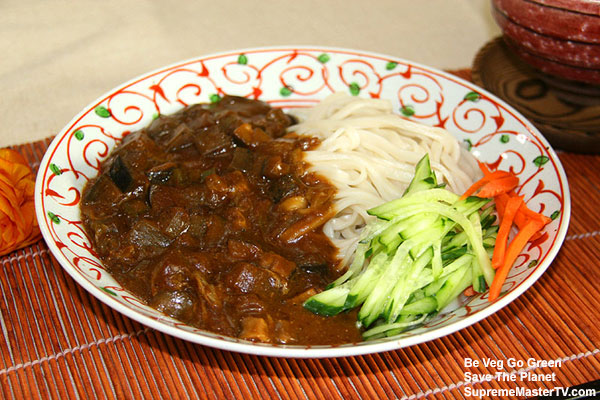 1. Cut all the ingredients small(for eating with noodles) except cucumber.
2. After cutting the leaves, konyac, eggplant, shiitake mushrooms, bell pepper(take out the seeds first) lay them lengthwise.
3. Now stir fry all of them with I TBS oil on the pan.
4. Napa cabbage first, konjac, and add shiitake mushrooms and the rest.
5. Now add 800ml water and cover the lid.
6. While waiting for the water to boil, peel the skin of cucumber, cut off the steem and slice it thinly on a slant.
7. When the pan boils turn down the heat to medium
8. Go back to cucumber and cut everything on a slant. Put them aside.
9. Now the vegetables in the pan have become very soft. Turn to low the heat.
10. Put 10TBS sweetened soybean paste, 3 TBS red miso and make sure they melt completely in the pan. Stir well.
11. Add 2TBS sugar(or half spoon more)
12. Prepare 2TBS potato starch and 2TBS water and mix well.
13. Slowly(otherwise get lumps) pour into the pan while stirring.
14. It is good when it is thickened.
15. Put 1TBS sesame oil and mix well. (can add brown sugar, too)
Noodle
1. Put 3 packages of noodles into the boiling water.
2. Turn the heat to high.
3. Once it is boiled, let it for 1 min, after, cover the lid and turn the heat off.
4. Let it sit for 5-7 min. (If it is spaghetti, let 12 mins)
5. Drain out the hot water and put them on the plate right away.
Serve
1. Apply the sauce on top and the cucumber on the side
2. Enjoy!
 You can use any kind of vegetables you have or prefer
 The left over sauce you can put it in fridge or frost, and simply heat them after wards