(For all ingredients, please use organic versions if available)
Sushi Rice
720 milliliters rice
70 milliliters vinegar
40 grams sugar
20 grams salt
10 centimeters long
piece kelp
Sushi Contents
1 avocado
40 perilla
3 cucumber
1 package radish sprouts
1 package natto (fermented soy beans)
1 small carrot
Pickled plum paste (to taste)
2 deep-fried tofu
1 red bell pepper
40 sheets toasted
nori sheets for
hand-rolled sushi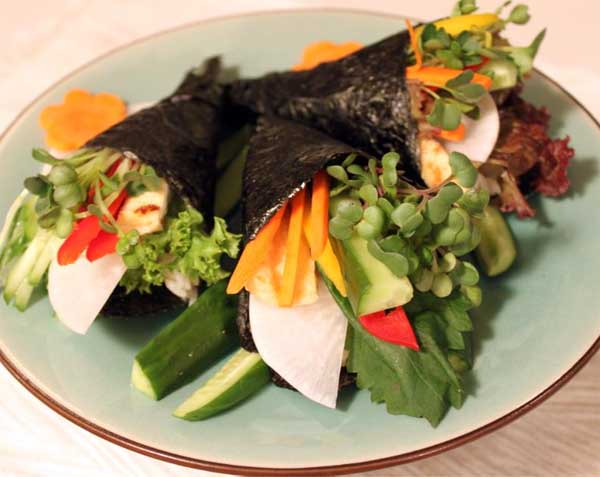 Directions (to preparation of the filling):
Mix vinegar, beet sugar, and salt to make sushi vinegar
Start mixing this with the cooked rice (the rice has already been cooked for the show Compared to regular cooked rice, the amount of water has been reduced a bit. The water reduced should be the equivalent of the sushi vinegar)

Transfer the rice to a wooden container for sushi

While the rice is very hot, quickly mix sushi vinegar with the rice

If the rice looks a bit too sticky. Use a fan to let the moisture quickly evaporate. Continue mixing While fanning.

Place a wet cloth over the sushi container and let it sit for a while so that it can prevent the sushi rice from drying out

Leave it like this until you are ready to make the hand-rolled sushi

Cut the bell pepper

Cut the cucumbers

Prepare the deep fried

Since the deep fried tofu already has oil in it, place it directly on a frying pan then leave it there until the tofu begins to stick to the pan

Looks ok now when you see a little bit of burnt marks, you can turn it over

Take out the fried tofu and cut into slices (don't cut without placing something on the cutting board)

Cut into two halves stack the cut pieces and cut again into thin pieces each with a width of 5 – 7 millimeters. And place them here

Cut the avocado, remove the skin and cut into 3 or 4 equal parts

Cut the carrot, peel the skin then cut into slices that are 5 millimeters thick then cut into thin strips. Sprinkle salt on the strips because they taste better

Next are the radish sprouts. Cut the roots off

You can purchase plum paste in a tube or you can use pickled plums and remove the seeds. Then put them in a mortar and grind with a pestle. And make a paste. You may sprinkle sesame now and mix with the plum paste or use it later before you serve

Next is natto or fermented soybeans. You may serve them as they are, but you can add some flavor.

Add mustard and a little soy sauce. Mix it slightly. If you mix too much, it gets too sticky.

Directions (to make hand-rolled sushi):
First, place a sheet of toasted nori on your hand

Then put some sushi rice on top (place the rice in the form of an inverted down Triangle)

Make a space in the middle for some wasabi (horseradish paste) if you like. Or after you finish your roll up, you may dip it in the soy sauce mixed with wasabi paste and eat

Now place the contents of your liking on top

First, begin with the classic, perilla leaves

Place the japanese basil leaves

Place the cucumbers (to make it attractive to the eyes, place the cucumbers so that their tips stick out of the nori)

Next, the avocado pieces

Add pieces of red bell pepper

Add some radish sprouts

Begin to roll, then keep rolling and rolling up

You may eat it with your favorite soy sauce, or with a combination of wasabi paste and soy sauce or with anything you like